Dover Town
Welcomes You!
....wekommen.........bienvenue........
Dover Welcomes You to all that is best in an English seaside town. We have a spectacular waterfront panorama - views of Dover Castle, a stylish marina and promenade, the to-and-fro of cross channel ferries in Europe's busiest passenger port - and of course the famous White Cliffs of Dover.
Shopping in town may surprise you - Dover can boast of some 40 national high street retailers plus many unique and specialist shops.
During the summer there are regular events the many events and concerts at the Pencester Pavilion in Pencester Gardens.
There are also events at
Dover Castle
, the
Dover Proms
the
Dover Carnival
and the
Dover Regatta
in July.
When it is time to eat and drink, you have a wide variety of restaurants, tea rooms and pubs to choose from, all serving the best of both English fare and international cuisine. When it is time to rest and sleep Dover's hotels and guest houses will offer hospitality and the range of comfort to suit all your needs.
So stay awhile in Dover in White Cliffs Country and enjoy its many attractions.
Roman Painted House
The best preserved Roman house in South East England with its outstanding wall paintings and original under floor heating system is well worth a visit and its Time Team style of archaeology cannot fail to impress.
Dating from 1,000 BC, it is the world's oldest sea going boat discovered only 10 ten years ago a few hundred metres from it's superb £1m gallery in Dover Museum - whether you have a deep or merely a passing interest in ancient history, this is an experience not to be missed. At the same time why not wander around the Museum's other galleries which show Dover's history and development through the ages, especially its experiences and contribution in the two World Wars.
Dover Castle, with its spectacular views across the channel to France, its 'secret' WWII tunnels and the new Henry II experience in the Great Tower.
Willingdon Road, Whitfield, Dover, Kent, CT16 2HQ. Tel: 01304 822409
Transport museum containing more than 50 vehicles, from bicycles to buses supported by street scenes.
Lower Road, River, Dover, Kent, CT17 0UY. Tel: 01304 823292
This Georgian water mill now classed as the finest working milll in Europe is shown regularly working. The Mill has a riverside tearoom and serves meals produced with home baked mill flour promoting Kent's food and drink.
De Bradelei Wharf
In its unique setting De Bradelei's spacious shopping facilities, located conveniently between the marina and the seafront, offers a wide choice of top brand fashions and furnishings at factory gate prices with savings of up to 70%. Open 7 days a week - including Waves Coffee shop.
Cruise Ships
The second busiest cruise port in the UK, miles of beautiful, unspoilt coastline and our internationally famous White Cliffs are known throughout the world. Whether you are visiting on a Port of Call for the day or joining a ship to commence your cruise, why not explore and spend some time in White Cliffs Country.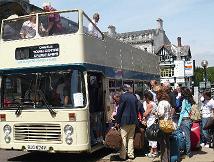 A regular shuttle bus service runs on all Port of Call dates to make your visit into Dover accessible and easy. For those who wish to stretch their legs, download the cruise map to follow the easiest route into the town.
Turn your visit into a short break.
White Cliffs Boat Tours
Sailing from: The Clock Tower, Dover Marina, Western Docks
Contact: Richard Mahony
Tel: 01303 271388 or 07971 301379
See the fantastic sights of Dover from aboard our 70 seater passenger vessel SOUTHERN QUEEN. Enjoy our commentary on the history of the Port and Town. View the famous White Cliffs of Dover, Dover castle, visiting cruise ships. All children can take the helm and brief navigation skills are shown. Souvenir photos are available and free achievement certificates awarded to all children. Duration approx. 40 mins (depending on shipping movements). Coastal tours available to Folkestone lasts 2.5 hours. Spectacular views of Samphire Hoe. Private hire available for extra special occasions.
Dover Sea Front and Promanade
Enjoy a leisurely stroll along the seaside promenade or - for the more energetic - walk to the end of the pier where you can reward yourself with a well-deserved drink or meal at the Lighthouse Cafe?. If the weather is kind why not try a paddle or take a refreshing dip in the sea or just sit on the beach and watch the windsurfers, sailors and fishermen enjoy their waters sports in a spectacular setting.
Dover Sea Safari
A unique experience with a coastal tour like no other - Step aboard our purpose built comfortable RIB speed boat, the Dover Explorer, for an exciting fun filled Sea Safari.
Website
Quality Shopping
Most of the national high street retailers have shops or outlets in Dover - the top names M&S, Boots, JJB Sports and W.H.Smith are all here. British-made gifts and jewellery are available from John Angell in Biggin Street.
Restaurants, Pubs and Tearooms
Always welcoming, Dover's offers many restaurants, like the Moonflower, bistros, like the award winning Cullins Yard, tea rooms, like Dickens Corner, and pubs, like Blakes, where good food, refreshment and hospitality await visitor and regular alike.